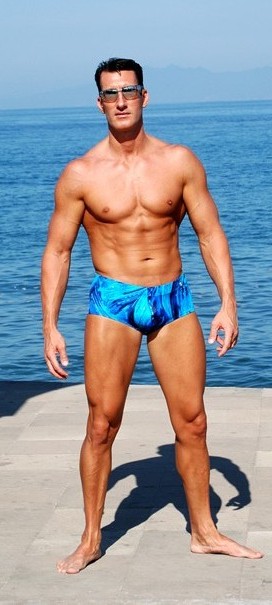 FREE Muscle Fitness Program
Build Muscle Mass, Burn Off Body Fat
And Get Your Dream Body Fast!
Enter your first name and a valid email address
for instant access to the free ebook and workout routines.

Dirty Dog Shave Gear Review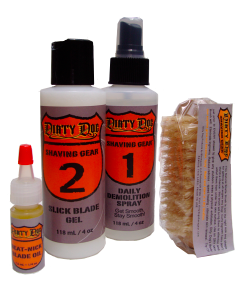 When a man shaves he doesn't want to spend an hour in front of a mirror to get a smooth bump free shave with no ingrown hairs. To be effective and useful for men a shaving kit needs to be quick and extremely effective. Some men really enjoy the shaving experience which can be enjoyed more by using products that leave your skin feeling smooth and bump free.
The Dirty Dog Shaving Kit includes a face wash that can also be used very effectively as a body wash. The kit also includes a very smooth shaving cream with a refreshing eucalyptus scent plus an after shave moisturizer with aloe vera as well as a shea butter which has a balsam added to leave your skin feeling clean, fresh and healthy.
The ingredients used in the formulation of the Dirty Dog Shaving Kit all have NO parabens or formaldehyde donors. The ingredients used are completely natural and contain a range of different broad-spectrum preservatives with NO sulfates, phthalates, petrolatum, and mineral oils.
There are more than 40 different ingredients used to create this effective shaving kit. From Eucalyptus Globulus Leaf Oil to Barbadensis Leaf Juice and Cedrus Atlantica Bark Oil (Cedarwood), there are many other ingredients not listed here but the bottom line is that all the ingredients are completely natural and no animal testing was done to verify their safety, ALL testing was done on humans.
The 3 different formulations in the Dirty Dog Shaving Kit have used sunflower seed oil and hydrolyzed oats to help smooth your skin smooth with a pleasant clean eucalyptus smell after a shave.
The result is a shave that will awaken all your senses in this important daily ritual for men that helps you create a pleasant shave that glides the blade smoothly and gently over your skin and will NEVER clog up your razor.
As mentioned above, the importance of enjoying this daily ritual of shaving can and should make the start of any man's day a smooth and pleasant experience as possible. For farther information on this shaving kit please visit www.dirtydogshavegear.com.